POS SOFTWARE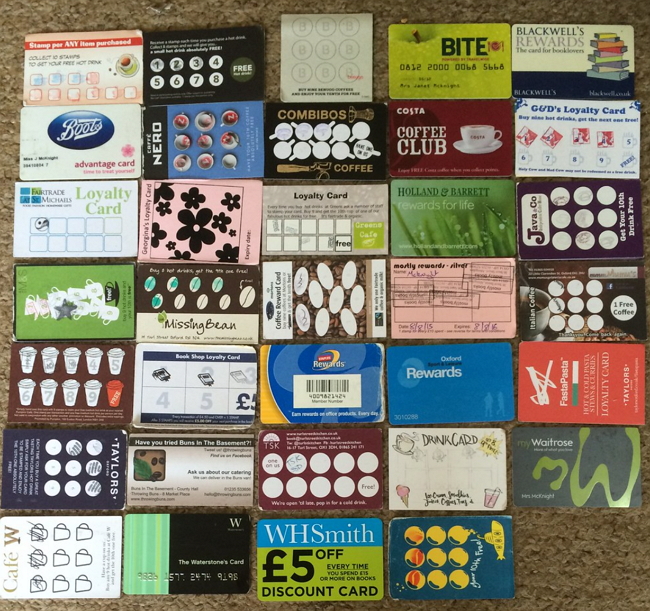 The most popular loyalty program used by retailers today is probably stamped rewards cards. See some samples above
What it is, that a person comes into the shop and buys something. Every time they buy, they get a stamp, and after several purchases, they get something. It is an excellent method if you're looking for a way to increase repeat customers and sales.
We suggest ten (10) stamps to the goal.
Here is a step-by-step approach that works.
1) Look for items with a decent margin and high demand, e.g. greeting cards, pet accessories, perfume, etc.
However, you can use it for anything. If you are stuck for ideas, consider using all purchases over $10. One problem here is if you try to knockout departments because they are low margin, you are advertising that the other departments are high priced. 
2) You need a design for your cards. Most printers can show you samples. Make sure you keep your brand image in mind, as each card is a simple and effective marketing tool that your customers carry. Select a design that is unique to your shop.
We suggest that it has twelve (12) spots to stamp.
3) Make a use-by date line. Unused points can be a real legal problem for a business. This line will be handwritten on the card.
We suggest a year
4) Select a simple, unique self-inking stamp that fits onto the squares of your loyalty card. This also has been shown to reduce fraud.
- Now, it is up to you if you integrate it into your POS system. There are some significant advantages to making it integrated.
-- It reduces fraud
--- It allows you to track your customers' spending habits and collect valuable insight into improving your business.
--- Knowing their details, you can market your business to them.
5) When someone buys something on offer in the shop, offer them a card. If yes, they get one stamp for joining the item and one for buying. So everyone starts with two stamps. This gives them the feeling that they are closer to their reward as now they are 17% there (2 stamps out of 12).
We suggest you read here if you want to know the scientific reasons why we suggest this:
6) Once the reward is redeemed, they get a new card with one stamp credited for rejoining the program. Then they get another stamp for the free offer they redeemed. This overcomes this problem of them starting with zero as now they are at 17% again.
Give it a try and see how you go. Then let me know.
Ideas people consider:
a) Consider offering a smaller reward on the sixth (6) stamp. In practice, we have not found this to work well. 
b) People that buy on their birthday get an extra stamp. Never seen this idea used, but I think it will work.
c) Big purchases get two stamps. Since the purpose is to get people to buy, this idea seems self-defeating.  
d) Slow days get a bonus stamp. I can see it working well in many retail environments but not in others. Maybe have a chew on this one.