POS SOFTWARE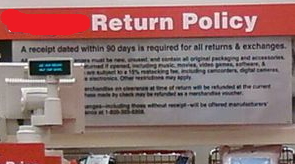 Today the number of returns is going up. Much is due to COVID, which has caused many of our clients to update their return policies.  
Unless you have a comprehensive and straightforward return policy, returns can be time-consuming. I say policies because you will find that your return policy has to be different for many goods.
One tip: many majors can transfer much of the cost of the returns to their supplier. See how much you can. What you need to check from your suppliers what their policy is in many situations. Plus be aware that many of your return is not your responsibility but theirs. For example, if you sell an item with a supplier claim, it is not your fault if it is false. 
Also, I do recommend is that you look through the return section of our software. You will find that it makes it quick and easy for you to handle and keep track of the returns.