POS SOFTWARE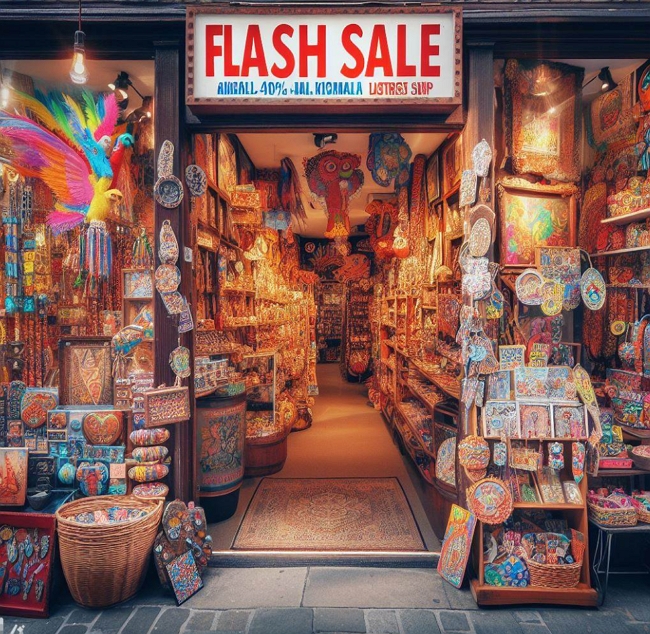 Drive Traffic and Sales with Flash Sales for Your Business
Running quick sales events is an excellent way for brick-and-mortar retailers to create buzz and drive traffic into their stores. It can be done anytime, leading to a surge in sales and new customer acquisitions. Here I will discuss tips for planning and marketing winning flash sales for your retail business.
What Are Flash Sales and Why Do Them?
A flash sale is a promotional event where you offer items at a discount for a very short period of time - usually 24 hours. This create a sense of urgency and excitement that many customers will look at. The limited time frame convinces shoppers they need to buy now before missing out on the fantastic deal.
Done right, flash sales can:
Generate a rapid boost in sales and revenue
Attract new customers into your store - Customer acquisition
Clear old or excess inventory
Create buzz and visibility for your business
Increase customer email signups and social media followers, use your customer loyalty
Brick-and-mortar retailers can use flash sales as periodic events throughout the year to spike sales during slow periods or when introducing new products and to liquidate old stock.
It works anytime but can also be used around holidays, events, or seasons, flash sales help you capitalise on timely opportunities. You can align them with occasions like back-to-school, Halloween, Mother's Day, or the summer clearance season.
7 Tips for Creating a Successful Flash Sale - Retail marketing
Flash sales may seem simple, but excellent execution is critical to driving traffic and conversions. Here are six tips for planning and marketing a profitable limited-time sale:
1. Strategically Select Sale Items - Promotional sales
Carefully curate the products or product bundles you'll discount for the flash sale. Pick items that:
You have overstocked and want to clear out
Have wide customer appeal
Will entice shoppers to make additional purchases
Allow you to maintain adequate profit margins
Avoid putting your newest, trendiest merchandise on sale so you don't diminish its perceived value.
2. Set Clear Start and End Times
Be very specific with the start and end date and time so customers know exactly how long they have to get the deal. Twenty-four hours or less creates optimal urgency.
For example:
Starts: Saturday, November 18, 9 a.m.
Ends: Saturday, November 18, 9 p.m.
3. Offer a Realistic Discount
You want your discount deep enough to excite customers and make them feel like they're getting an incredible bargain. You need to be careful here if it is not enough, you look silly, and if it is too much, then you will sacrifice too much profit. Do the math to ensure you can offer huge savings without losing money on each transaction. You can maintain strong margins by only discounting certain items while keeping everyday prices on others.
4. Inventory management
The quickest way to kill a flash sale is running out of the promoted products. Calculate expected demand and ensure you have enough excess inventory on hand to meet it.
Nothing disappoints shoppers more than finding their desired item already sold out, which can even damage customer loyalty. It's better to have leftovers than to turn away empty-handed customers. You should be able to sell it later.
5. Small business marketing
Heavily advertise your flash sale through:
In-store signs and window displays: Place bold, colourful signage at your entrance and throughout your store to spread the word to foot traffic use to the max your In-store marketing. You can use this signage again after the sale in a few months.

Social media marketing: Run your shop on Facebook and Instagram to reach a broader local audience. It costs nothing.
6. Plan Accordingly with Staffing and Operations
Alert your staff to prepare for an influx of customers during the sale period. Schedule adequate employees to handle the customer traffic so shoppers don't have frustratingly long wait times. Brief them on what you are trying to do clearly to prevent misunderstandings, you need to provide decent customer service.
7. Update your Point-of-sale (POS) system
Make sure your POS software is up to date with the information required.
Flash Sale Ideas for Different Business Types
Here are examples of successful flash sale ideas for specific types of shops, I have seen.
Newsagency
Summer fun flash sale - Buy one get one half off outdoor water toys and games
The magazines company gave them some magazines to move on their flash sale -  It did not cost them anything, they just asked.
Pet Supply Shop
Adopt-a-pet sale - 25% off pet beds, leashes, bowls, and toys
Stock up and save flash sale - 15% on some food and treats
Make Your Next Flash Sale a Success
A well-executed flash sale takes strategic planning, savvy marketing, and strong operations. But the reward of increased traffic and sales make it a highly effective periodic promotion. Remember to select sale items wisely, offer deep but profitable discounts, stock up on inventory, advertise heavily, and prepare your staff.
What other tips do you have for small retailers looking to run successful flash sales events? What kind of promotions resonate most with you as a shopper?
Good luck, and let me know how it went for you.