POS SOFTWARE
The coronavirus has caused significant change across all our lives. We all have to deal with the new normal. Today in the world of business, life moves on, and effective meetings need to be done. 
So today, almost all of us are using online meetings. 
This was a growing trend earlier but this pandemic has speeded up the process, and I am sure that this trend will continue even if COVID-19 suddenly disappeared. Today in Australia, court hearings are being done with zoom and skype.
Now I would say that every business needs the proper equipment to participate in these meetings.
What I suggest you need is to upgrade your back office computer by adding another monitor. 
This will give you a Dual Display, which allows you to participate with the online meeting and also get organised. , It is said that dual monitors increase productivity by 20-30 percent.
The monitor should have built-in speakers if your premises can use them, I think it looks better then a headphone and works better. Also like many others, I find extended use of a headphone painful on my ear. That is why I prefer to use the built-in speakers. 
Since you are going to be looking at people, not text for quite a while on these conferences, I would recommend a 4K display to see a decent image. Plus you need something that is a reasonable size so nothing smaller than a 27 inch. Who watches TV on small screens nowadays if they can help it.  Check it out and make sure that it is clear and has a readable screen (to prevent headaches), I prefer the brighter displays to cut down on the glare. Remember you are right in front of it for a long time.
What would you be able to see here say on a small screen?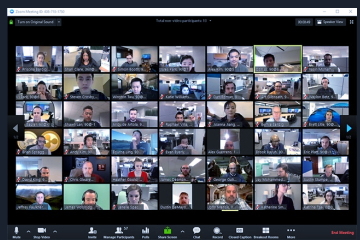 With us, a typical online meeting has over eighty (80+) people attending. I have attended meetings with much more.
I use a 34-inch gaming monitor.