POS SOFTWARE
Halloween is just around the corner, so unfortunately, much of this information that they sent me today has come too late for most of you to action. Sorry but trust me, it's not my fault. Still, it might help some of you to position your Halloween costumes if you sell them.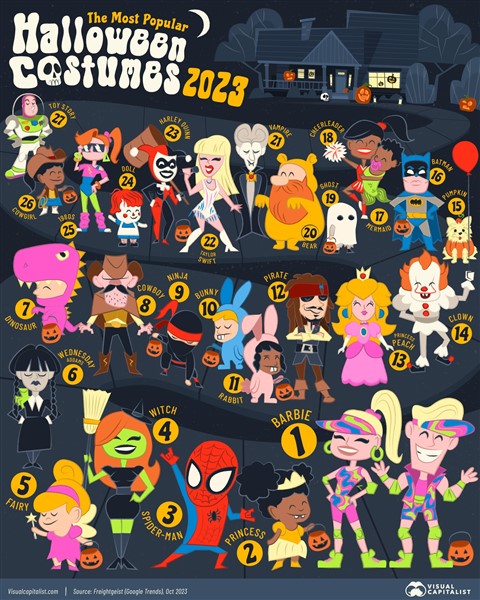 It will also give you some ideas of what the public is thinking. After analyzing 2023 predictions from major costume companies, here is a breakdown of the 27 hottest Halloween costume ideas for kids, adults, groups, couples, and pets.
Barbie Movie Costumes, and Video Games Dominate
Taking the #1 spot this year is Barbie! The iconic Mattel doll turned movie star is set to be the most popular costume for Halloween 2023. No doubt this is largely due to the hugely successful Barbie movie that was just released.
Interestingly besides Barbie, many of the other top costumes this year draw came from recent popular movies like Spider-Man: Across the Spider-Verse, The Super Mario Bros. Movie, and others. Others from video games such as Princess Peach and Mortal Kombat ninjas. This confirms what people have told me pop culture has a massive influence on Halloween costume ideas.
The trouble with this sort of stuff is that yes, Barbie is good this year, but if you do not sell it soon, you will be stuck with items difficult to sell. 
Old Faithful Costume Ideas
While pop culture always adds fresh new costume ideas into the mix, you can't go wrong with the classics. Occupying spots #4 through #11 in the rankings are costumes that are popular every Halloween:
#4 Witch
#5 Fairy
#7 Dinosaur
#8 Cowboy
#10 Bunny
#11 Rabbit
You cannot go wrong with these guys.