POS SOFTWARE
In a survey in the last Global Retail Theft Barometer is released, which is the most significant and authoritarian report in the world on shop theft and supplier losses in retail businesses, it came up with a percentage breakdown in Australia by type.
Dishonest employees will be about 25%
External - shoplifting (39%)
Administrative (accounting mistakes, pricing errors and process failures) about 23%
Supplier fraud (no delivering what they said) 13%
The last two, in particular here, what it shows is that in those surveyed about 36% of the total losses are in the supply chain. This shows the importance of a good computer system in retail for stock control. 
Now the first item which I will discuss today on this is the problem of duplicate supplier codes. One problem is that you order and the process by supplier codes. The problem is that many suppliers have for various reasons what you consider different products with the same supplier code. As such you could easily order in the wrong product. 
Now go to reports

Select duplicate supplier codes by supplier.
Now select the basic report, we can discuss the extras later.
Now out will appear this report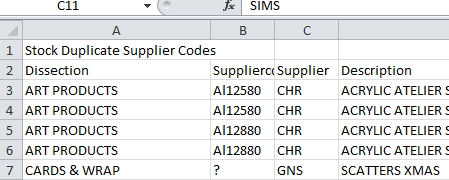 In it, you will have a listing of items by supplier code for you to investigate and hopefully fix.
Best get started with it.