Today POS Solutions is a leader in Retail POS as it is an experienced supplier of Point of Sale Systems as well as individual point of sale systems and point of sale equipment for a wide range of business environments. It is a major software developer specialising in Australia in newsagencies, pet shops and pharmacies which has serviced thousands of businesses Australia wide. Our head office is in Melbourne, Australia, with offices in most central areas like Sydney, Brisbane, Tasmania and Perth.
We started in 1983 when a computer programmer Bernard Zimmermann seeing the potential of the personal computers began POS Solutions to design and market-specific written software and computer hardware for businesses.
In 1990, POS Solutions marketing director Zac Varga developed a plan for a standard newsagency industry software package to help these independent retailers to gain access to the new technological developments. The company succeeded in introducing a competitive range of newsagency software that enabled it to hold a top position in the market. Soon afterwards Zac Varga bought 50% equity in the company. Here is a picture of the two directors of POS Solutions at their first trade show in 1990 showing off the first industry-specific retail management point of sale software.
Now we provide our clients with a complete range of solutions including software, hardware, support and marketing and have consistently focused on our original vision of POS Solutions. It has continuously evolved to meet the needs of the marketplace and today we are engaged in every aspect of technology in retail.
Working alongside our clients, POS Solutions have developed computer systems in retail including software to the electronic virtual services for such services as electronic-payment, gift cards and telephone recharges.
We were on the first Microsoft Certified Partners in Australia which encompass a broad range of expertise and vendor affiliations, with experience ranging from networking, e-commerce, collaboration, business intelligence, and other leading-edge disciplines. Being a Microsoft Certified Partner ensures our staff were trained and qualified to work with the products that we support, delivering the best solutions to you professionally and efficiently. Key personnel have passed rigorous tests developed by Microsoft to ensure they meet high standards. POS Solutions Australia are a Microsoft OEM System Builder Program member allowing distribution of original equipment manufacturer products.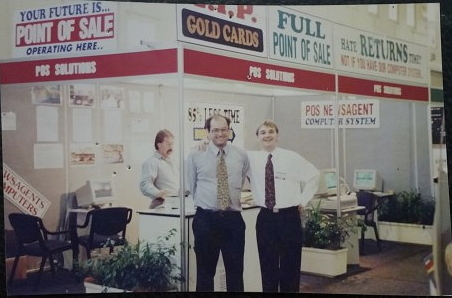 Terms of Use
This website was originally set up as a tool for our clients and readers, and the following should be considered as a guide for its use in general.
As we know that the public has many shades of views, we invite all readers to contribute to encourage broad debate, and we look forward to reading your contributions. However, the information provided on this site is of a general nature, and we know may not suit every situation. While every care has been taken to ensure it is useful and appropriate, no responsibility is taken for any problems it may cause you or your organisation. Conversely, if this information is beneficial to you or your organisation, we will accept total responsibility and take all credit, plus some more. In these cases, you must direct all compliments, gifts, awards, rewards and donations to us.
Who can give comments here?
Anyone is welcome to send comments. We try to post all comments, in fact, we reject almost none, but we cannot guarantee every comment will be published.
By sending your comment, you agree to take responsibility for your comments, and you grant POS Solutions a non-exclusive, royalty-free, perpetual, irrevocable, and full rights to it.
Some reasons for moderation include 
Spammers
Unfortunately, our site has become the victim of spammers who hit the site with spam regularly although there is a place for drug representatives used in the treatment of an erectile disorder, it is not yet on this site.
Off topic
Off topic, comments will not be published.
No content
Comments that we feel has no content, for example, a comment that said what a great post or thank you but adds nothing to the discussion. Instead, if you add your email address, we will send you a thank you email.
Language
Please do not use sexually explicit material or swear words! We are strict about this.
Only comments in English will be accepted.
Allegations
Do not waste your time using this blog to try to spread gossip, breach court orders or make claims about people. If you mention people abusively by name or an organisation, you may be required both to identify yourself and show some basis to substantiate your claim.
Tower systems International, we would prefer that you do not talk about this company at all.
Unsavoury views
In keeping with our beliefs please do not make comments that we consider discriminatory on the basis of race, religion, gender, sexual preference, nationality, age, disability, etc..
We would prefer you to put your full name to be published with your comments. However, we understand that this does not suit many people so first name or nickname may be used. However there are times when we need to clarify something, and if we can't contact you, we may not be able to post the comment. Providing us with your email address and a phone number allows us to do this. We also feel that it is a show of good faith and that you are genuine in the views you have presented. We will not publish your email address or phone number.
Grammar, spelling and other such issues
This is not an English class so do not worry about it.
For any references to our bad English for example grammar or spelling, please put an actual reference alerting us to what is wrong so the item may be edited. If so, then a thank you email will be sent out.
Good form
Remember putting whole words or sentences in CAPITAL letters is considered shouting in the internet world. If in doubt, use lower case.
Many exclamation marks are also annoying for readers. Use sparingly, please!
I suggest you do not use text messaging short forms, for example, say LOL, :) or :( as many of our readers do not understand them
Privacy information and security
POS Solutions takes your privacy very seriously, and so we take all the appropriate security measures we can to protect against unauthorised access to any data on this site.
If we receive any complaints, it is our policy to contact the complaining user regarding his or her concerns immediately, but we do also cooperate with the appropriate regulatory authorities, to resolve any complaints.
Our privacy statement is available here.